Posted by Robert Beauchemin on Mar 8, 2008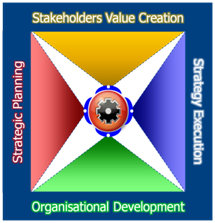 Called Executive4sights is a leadership framework, or philosophy. Contrary to traditional leadership approaches, Executive4sights is about integrating planning and execution focused on sales and discipline, it is not training, it is a tool for Boards of Directors and Senior Leadership Teams to implement coherency.
Why Executive?
As an adjective, the word "executive" implies execution, or the action of getting things done. So the Executive4sights is about getting things done.
Why 4sight?
Here "4sights" signifies two related concepts.
First it stands for foresight, or the act of looking forward and the capability of taking action about or responding to something before it happens. And it is plural, because it is a never ending process — Always trying to look out.
Second, it suggests four axes of successful leadership – four axes of sight:
In the simplest form:
To succeed, leaders need to keep their sight on these 4 axes. This applies equality to not-for-profit, governments (although execution is often time-bound) and small to very large for profit organizations.
Executive4sights is based on the fact that stakeholders'value creation is in direct relation to Core Strategies an organization has selected.
Core Strategies are themselves selected to deliver a corporate vision articulated in a strategic plan, which answers the question will your organization be in 5 years and will you get there?
Proper execution of Core Strategies needs the right people, with the right personalities in right seats; that is because an organization's size, strength and ability to deliver is the sum of its employees' size, strength and ability to deliver.
Proper execution of Core Strategies also needs an execution framework that ensures change leadership, organizational and operational alignment as well as effective revenue generation processes.